I use it everyday at home…
My Water-to-Go bottle was an absolute lifesaver during my travels in Ecuador. It meant that I never had to worry about finding clean, safe water as it was always available via my bottle! I filled it up at hotels and during my stay in the Andes mountains. Normally, I am extremely sensitive to changes in water but I was not ill once during my travels which was absolutely amazing! The same couldn't be said for a friend of mine who was quite ill and contracted a parasitic infection from unfiltered water. Even after my travelling had ended, I continued and still continue to use it every day at home and at work. I am extremely conscious about my health so it's great to know I'm getting safe water all the time. Additionally, the water tastes great, saves me so much money in bottled water and it's environmentally friendly! Its an amazing product, I couldn't recommend it enough!
– Melissa Hill
Fisherman's friend… 
I took delivery of a Water-to-Go Bottle several weeks ago, and the first thing that I noticed was its handy size – being about the same size as a sports bottle, the bottle was a lot lighter than I expected it to be, with it having a "filter" inside I expected it to be much heavier. The reason for my interest in this gadget it simple, I am an Angler, Wildlife Photographer and Climber so naturally spend a lot of time in the outdoors and I am never far away from water. If I am fishing or out with the camera I normally take a 10 litre water bottle or If I am climbing several 2 litre bottles of water in my rucksack but as you would expect the weight is a problem, and if I want to stay longer or run out of water then I am limited to what I can do or would have to go and find supplies. I hoped the Water-to-Go would solve this problem! I decided to try it out whilst on a few Barbel Fishing sessions this week after work, and after seeing the colour of river I have to admit being slightly hesitant! However, after giving myself a stern talking to I unscrewed the lid and simply filled the bottle which couldn't of been easier, screwed the lid back on and took a deep breath then had a good swig of the river water, it wasn't what I expected at all and was quite tasty! Several more gallons of the Ouse found there way into my bottle over the next few nights, I am hooked – what a fantastic invention!! I am won over to this bottle now, it has found a permanent home in my rucksack – gone are the days of having to cart around giant water bottles that weigh a tonne! My advice is simple, if you are an outdoor person you cannot be without this product!
– James Smith
Lucky enough to spot Water-to-Go before we left…
I went to Zambia for 3 months to do charity work in a tiny community called Mututu. There was no running water so we had to collect water from a well. Using my Water-to-Go bottle was the best thing ever – I didn't get sick once and a lot of the rest of my team did! Out of about 20 of us I think 5 had been lucky enough to spot Water-to-Go before we left. Half way through the trip when illnesses started kicking in, most wished they'd bought these bottles too! They're just incredible and I'm so glad I bought my two, wouldn't go abroad without one now and I even use back home! Going to Croatia in 2 weeks and I'll definitely be brining one for me and my partner! As I mentioned, I bought 2 – really unnecessary for 3 months! One filter lasted the whole 3 months but that was probably at the end of it's life by then. Highly recommend!
– Roisin Corderoy 
Great for trekking…

We have been trialling the Water-to-Go bottles since May with our trekking clients and staff, and the feedback is very positive. In terms of our business brief they are excellent…namely a lightweight, simple option that offers full confidence in providing safe drinking water from trivers and streams whilst single day and multi day trekking. The speed and ease of use…basically scoop and drink is fantastic. Moreover, the ease of cleaning the bottles and changing the filters is second to none. They also make excellent gifts for our clients as a way of helping to promote our business. Personally I use my Water-to-Go bottle daily whether guiding clients, mountain biking or on long road bike journeys. I guided two clients along the full high route of the Pyrenees last summer and we frequently carried up to 3 litres of water each which had to be treated with tablets or a UV pen. Both long and cumbersome processes that didn't always give full confidence. Water-to-Go bottles would have been so much easier and would have significantly reduced the weight carried. One of our team members is Taiga the Trekking Dog and it would be interesting if you could come up with a clean drinking system for him as animals can also be affected by the same issues of drinking directly from untreated sources!
– Simon Greaves
AID4LIFE emergency response team…
Having just returned from a successful medical mission to the Philippines after supertyphoon Yolanda (Haiyan), I met this wonderful product while visiting England. It caught my eye immediately since drinking water has always been a major issue in disaster areas. Tacloban City was no different. Providing clean, potable water meant a great supply and logistic challenge for all. Having realized the importance of clean water, I immediately bought a bottle and a few filters for myself. We have even equipped all members of AID4LIFE Emergency Response Team since then. It is an essential piece of our equipment, so that no shortage of drinking water could become an issue for us. On the other hand we look forward to finding some generous sponsors who could possibly finance future charity and medical missions where we could present bottles to the local people, suffering the consequences of a natural disaster, thus making potable water available for them too.
– Dr. Ferenc Sari MD 
Water-to-Go at Glastonbury…
Three of our group used the Water-to-Go bottles for Glastonbury Festival, and I just wanted to write and tell you how impressed we were with them! Although we had an amazing time, you will appreciate that hygiene is not the best at a festival – There are drinking water taps provided around the site, but they seem to be few and far between, the queues are huge and by day 3, they are boggy mess. Having our Water-to-Go bottles meant we could fill from any of the water sources around the festival site – Including the water taps next to the toilets. I certainly would not fill a normal bottle from these taps due to the high level of bacteria which will be transferred from them. We certainly got a few strange looks from other festival goers when filling up here! Also, due to the precautions they take against contamination in the water source, it does tend to have a swimming pool taste which disappeared completely when drinking through the filter. The other option is of course was to purchase bottled water but with prices at the festival ranging from £1.50 to £3.00 for 500ml it would have cost us a lot of money over the 5 days, not to mention the environmental effects of plastic bottles. I would definitely recommend Water-to-Go bottles to anyone considering purchasing one – You definitely won't regret it.
– Liz Mangan
Travelling Mexico and Guatemala…
Whilst travelling through Mexico and Guatemala the Water-to-Go filtration system never let us down. Whether drinking the tap water in Mexico City or a filling up from a stream, whilst hiking in the Mountains of Oaxaca and Lake Atitlan, our Water-to-Go bottles provided us with clean and fresh drinking water. Recommending the system to people as we travelled we carry on to do so when out playing in the outdoors with friends. A simple but effective design! Highly recommended!
– Ben & Elizabeth
Chemical free gym water…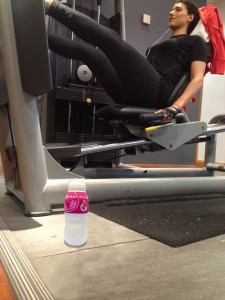 I go to the gym 4 times a week so value my health. I used to either buy a bottle for €2 or drink from their water fountain. I either spent too much on bottled water or could taste the chemicals in the normal tap water. The Water-to-Go bottle is an absolute dream. I use the water from their fountain and it tastes completely different, I'm also saving a massive cost on the bottled water, not to mention the environment. Thank you for a great product
– Fiona Mounir
Triathlon training…
In 2013 I had a stroke, with no clear medical reason found. It is likely that being dehydrated was the cause. Following my recovery I wanted to get back to training and competing in long distance triathlons. I discovered Water-to Go and have used it on my training runs, filling up in streams and rivers. I also bought it for my daughter's gap year traveling in Asia. We both use it everyday now. I completed the UK Half Ironman on Sunday and now with Water-to-Go I have the peace of mind of knowing I can stay hydrated and safe wherever I am. Thank you.
– Mike Davis
The best product out there… 
I use it in the house, I use it when I'm out for the day, when I'm in the studio, my daughter can use it & I know she's drinking safe filtered water, where ever we are – I use it anywhere, & buying bottled water is a thing of the past. Where it's really made a difference is when I'm on tour or on the road; I can fill up from anywhere & in countries where you wouldn't go anywhere near tap water I don't have that problem. It's the best product out there of it's kind, nothing else even comes close and I know because I've tried them all.
– Pat Garvey
Pure Water for a Pure Me…
They say diamonds are a woman's best friend; I say my crystal clear water is. My tap water quality is poor, I rarely leave the house without my Water-to-Go bottle. It sits with me in the office to keep me hydrated and then gives me great support during my training in the gym. It often gets 'kicked' between the dumbbells but it never breaks or leaks. Since my post-workout drink is crucial to my recovery, I always squeeze out water from the bottle to make my drink 100% nutritionally pure rather than using the suspicious gym fountain. My favourite usage is during travelling. At the last BodyPower Expo, for example, the little piece of ingenuity saved my hydration – frequent trips to the toilet was all I did rather than spending money on questionable bottled water. I always recommend it to clients and friends.
– Maya Petrova 
Confident about our water supply…
This is us on the way from Naudanda to the Peace Pagoda above Pokhara .We had a fantastic holiday and were always confident about our water supply, thanks to Water-to-Go. Interestingly at the airport in Pokhara on our way back to Kathmandu we saw a gentleman with two bottles, one either side of his rucksack! We're now looking at buying another for a young man doing a volunteering expedition in southern Africa.
– Liz Plews & Mary Arthur
Trekking Annapurna…
Myself and a friend planned a 17 day trek in the Annapurna region of the Himalayas. Our objective was to reach Annapurna Base Camp at 4,130 metres. Throughout Nepal there is a shortage of potable drinking water. While there are numerous rivers flowing down the valleys, very often such water supplies can be contaminated from human activity higher up the mountain. To ensure we had a reliable drinking water supply we used the 'Water-to-Go' filtered bottles on a daily basis. They were easy to use and proved very effective – we didn't get sick once and always had plenty of drinking water at our disposal. I would certainly recommend the Water-to-Go system.
– Mike Fitch
Safe water while pregnant…
When I became pregnant last year, like most pregnant woman I read up on everything out there on what I should and shouldn't be doing, wearing and eating! I had always drunk bottled water but when I read some studies suggesting BPA products could pose a risk to my pregnancy I thought twice & searched for an alternative. I was recommended Water-to-Go and I haven't looked back since! During my pregnancy I was even more thirsty than usual and so instead of taking just a glass I wanted to be able to take a bottle of water up to bed with me. The tap water tastes dreadful here and is so murky, but once filtered through the bottle you cannot tell the difference between that and the top brand bottled water. I even started to fill it up from the bathroom and the water tasted great, perfect when I didn't want to be going up and down the stairs! An additional bonus is that the water stays really cool even when left overnight. The easy to drink nozzle is perfect when half asleep and even when knocked off my table in the night it doesn't leak! My baby boy is now nearly 6 months old and I still use my Water-to-Go bottle everyday!
– Natasha O'Sullivan
Great for everyday use…
The first thing I packed for a trip to the Cairngorms National Park was my Water-to-Go bottle. As I knew we'd be carrying a lot of camera gear, waterproofs and anti-midge cream, it was great to know that I could have a drink from any river or burn I came across. This was despite warnings from the visitor centre about Weils Disease as the Water-to-Go filter system protects you from bacteria, viruses and other nasties. Since then I've started using it every day. I really like the taste; now I can immediately spot "normal" tap water with its fluoride and slightly metallic bitterness by comparison. I'm a complete Water-to-Go convert!
– Mike Spurgeon
Never travel without one…
I have been in India for 2 months drinking the tap water through the Water-to-Go bottle filter. I even filled it with water from the Ganges to prove that this amazing filter can be used to keep you healthy anywhere in the world and from any water source. This is my 5th trip to India and every time I have left behind hundreds of used plastic water bottles to pollute the environment and ended up on antibiotics but not this time. I didn't have to buy one single bottle of water, stayed healthy and well and was never thirsty as I could fill my bottle anywhere. So many travellers saw it and said they were going to buy one. Never travel without one – it is amazing!
– Carolyn Taylor
Water-to-Go pays for itself…
I am a keen walker having done all the three highest peaks in Ireland, Scotland, Wales and England and have always been looking for a reusable water bottle that wasn't going to burn a hole in my wallet. Then I found Water-to-Go. It was the price that attracted it to me as well as the ease of use. Then my biggest challenge was a trip to China, not a major hike through the wilderness but I was staying in Guesthouses in Southeast China. My health advisor and my guide book told me to only drink bottled water, so I decided to save money and be safe and used my Water-to-Go filter. I was in China for 14 days visiting Nanning City, and one of the Chinese and Vietnam border crossing posts. I topped my bottle each day with the local tap water without spending money on water so the cost of the Water-to-Go bottle paid for itself.
– Phillip Calthorpe
Saving money at the airport… 
Having read some of the other testimonials on this website, my story seems quite ordinary but here goes… When I go abroad for business or on holiday, I had got into a routine at the airport of going to buy water as soon as I had exited from security. I usually buy 2 bottles, (because they are a better deal!) and do the same on the way back. Recently, I was working in Amsterdam every week for a few months and ran up quite a considerable bill on 'airport water'. On my most recent trip abroad, I was fortunate enough to be going on holiday to Spain on a DIY fitness break. I took a Water-to-Go with me and as soon as I'd been through security, I filled up my bottle from the taps in the Ladies. I filled it up again just before I went to the gate, so I'd already saved a few quid at the airport. When I landed in Spain, you've guessed it, I filled up at the airport and then again as soon as I got to my apartment. After another refill whilst out walking and exploring the area, and another from the tap in the apartment before bed, I reckon I'd saved around £6 to £8 in bottled water on day 1! I continued to use the bottle throughout the holiday, including taking it to the gym every day and of course, used it again on the trip home. I easily covered the cost of the bottle in savings on bottled water during a 1 week holiday and am continuing to use the bottle, 'for free' since I came back. Even if you ignore all the environmental benefits of not filling up the ocean with plastic etc, Water-to-Go makes good financial sense, as well as enabling you to have the convenience of filtered drinking water available to you almost any time. Water-to-Go is the future and I'm sure our children's kids will be horrified by the environmental damage done by this generation of plastic water bottle guzzlers!
– Gill Rouse
Walking across Mongolia… 
I had been searching for some time, for a really good & effective water filter to take on my expedition across Mongolia, but I kept coming across water filters that needed to be pumped to purify the water (in a desert of 45 degrees C, this was the last thing I wanted to do). My agent came across the Water-to-Go stand at an adventure festival and asked for a demo & how they worked. He was so impressed that he sent me a text straight after, in which I then went on the website, and found the perfect bottle to take out with me. I'll be coming across all sorts of water sources in some extreme locations. The fact that I could top the bottle up and drink it straight away was what hooked me the most, and it was an absolute must for me in such an environment, but even my latest trek in Scotland saw me topping it up constantly from lochs, rivers etc and the taste was perfect. The bottle really does deliver and I'm super impressed with it & can't wait to use it on my latest expedition. Fantastic product, team & service, I highly recommend
– Ash Dykes
Staying hydrated, Living with MS…
Last year I started the task of hiking all 800 miles of trails in the Great Smoky Mountains National Park. One of my main concerns was buying a good water filter system. Having MS I have heat & temperature sensitivity and need to stay hydrated. Before I started using the Water-to-Go filter I was carrying two or more 16oz. bottles and hoped I didn't run out of water. The Water-to-Go bottle is the best piece of hiking equipment I have in my backpack. It has eliminated the extra weight of water I was carrying which is great when hiking long distances. I now use my bottle and refill it every time I come to a creek, water runoff and I have filled from standing water once.
– Greg Long
Move over bottled water… 
I thought quite hard about buying a Water-to-Go bottle as I wondered if it was overkill but as soon as I landed after a long dehydrating flight and had instant access to water I was very grateful for it. There are the obvious reasons for not buying bottled water: adding to the plastic in the world – and I'd say after a month that I've probably already made my money back, but there are health reasons too… When I have to get bottled water on the road I always find myself running out and getting dehydrated every now and again. You can't always get it. It has been invaluable to have a constant supply of water in a hot climate. You know when you wake up and are super thirsty and then you realise you have no water, or you're on a long train journey and run out, so nice to just go to nearest source and fill up. It means you don't have to carry 3 litres for example too. Also the plastic is safer unlike bottled water that releases toxins into the water in the sun. The filters are tiny and lightweight so take up no room and they last three months each. I've got 3 with me! Water-to-Go said they'd send to me abroad if I need later 🙂 I thought I was being OTT investing in one but it is definitely one of the most important things in my pack now I'm away. RECOMMEND!
– Bev Croft
Invaluable piece of equipment
This summer I traveled to Mityana in Uganda to provide fire safety and prevention lectures and carry out life saving burns surgery and treatment to the children of the Mityana region. The Water-to-Go bottle was one of the most important pieces of equipment I had and constantly provided me with safe clean drinking water in very humid conditions. The water in Uganda is not suitable for drinking and using the bottle's unique filter action system I was safe and confident drinking the water. I would heartily recommend these water bottles and am very much looking forward to using it again whilst out on the welsh hills on wild camps. Thank you again Water-to-Go for providing me with an invaluable piece of equipment … It really is one of the best pieces of kit I own!
– Andrew Jones
Pesticides & chemicals in tap water…
I do not exaggerate when I say that my Water-to-Go bottles have transformed my life – such a dramatic improvement. I suffer from severe chemical allergies – particularly pesticides – and am therefore unable to drink any water other than one brand of bottled Scottish mineral water. I do own a distiller but as I travel a lot this is not practical. I have lived with the constant fear of not being able to get my branded water for years now – and of course it is just so expensive. So when I risked trying normal tap water from my Water-to-Go bottle and had no side effects I literally cried with joy. I'm convinced there are many people out there who are suffering with unknown illnesses or allergies caused by modern water who do not realise and I recommend anyone to try the bottles – they're not just for those going up mountains or far off places!
-Catherine Edwardes
Where no water bottle has gone before…
This summer, four friends and I went on an expedition to the remote Fergana Range in Kyrgyzstan in the hope of summiting unclimbed peaks and exploring the region. The trip was a great success (we climbed four unclimbed peaks and had a brilliant time) and this was in no small part due to the support we received from Water-to-Go and their excellent filter bottles. We found it to be an invaluable resource in Kyrgyzstan where safe drinking water was at a premium and we were away from civilization for weeks at a time. With a Water-to-Go bottle each, the whole team were able to stay fully hydrated at all times as the possible contaminants and sediment found in mountain streams and glacial rivers were effectively dealt with. A further bonus, besides being able to collect water from any source we found, was that it eliminated the need to carry as much water with us. Water is of course, fairly heavy to carry around so being able to go light and top up at any source we came across was a considerable bonus. I know our whole team would recommend it. I will certainly be taking mine with me on my next walk in the hills and definitely on my next expedition.
– Daniel Keller
Safe water for a year in South America…
I bought two Water-to-Go bottles at a travel show. I was looking for info and inspiration for a planned year long trip, mostly in South America, and thought these bottles were a brilliant idea. A constant source of clean drinking water without the expense and environmental impact of bottled – what's not to like? 9 months on and we've finally got a chance to use them properly. The photo is me sitting on an oversized park bench in Buenos Aires, enjoying the tap water, and anticipating safely drinking water from even more exotic sources – pools in the cloud forests, glacial melt-waters, the Amazon and probably the odd public toilet along the way!
– Brian McVeigh
Extra bottles for the family…
Having spent most of my working life in the waste industry I am more than aware of the risk of waterborne viruses and infections. That's why, when I heard about Water-to-Go on the radio and its claims, I took a punt and decided to give it a go. The results I must say are impressive. Even though in the UK we have the privilege of some of the safest drinking water in the world, it still contains elements I would rather it didn't and I have noticed the taste is improved significantly. So it's no surprise that when we booked our summer holiday to Spain I bought extra bottles for my family so that they too could enjoy the benefits of clean healthy water from any tap we passed without the risk of stomach troubles or the expense and concern of buying bottled water abroad. Water-to-Go to me is water as nature intended, clean healthy and safe
– Simon Mosley 
Perfect for boating…
I heard about this on the Simon Mayo show and was so impressed I went straight to the website to find out more. After watching the various 'you tube' clips, I read the testimonials from other users of the product and realised this is just what I need to use on my Narrowboat. My boat has a 50 gallon water tank which feeds water through the taps for domestic use but I'm reluctant to drink from it for fear of contamination from filling hosepipes etc, so I have bought one of these bottles, rather than take 25 litre bottles of water from home when I go boating. I have to say, I'm impressed. The bottle itself is ergonomically shaped making it pleasant to hold. The air inlet filter means that you don't have to squeeze the bottle to get the water out. Being a dark colour and thick plastic construction, it tends to keep cold water colder for longer than other water bottles i've tried. The 'flip up' mouthpiece is easy to use thanks to a clever lever and it is a comfortable shape to drink from.
– Nicky Spence
Convenient Water in the Wilderness…
Safe drinking water is an absolute must travelling long distance in areas of the wilderness when water is scarce and bottled water is unavailable. Water-to-Go bottle assures me with instant convenient access to water for both drinking and cooking on my worldwide expedition. Buying bottled water has now become redundant – some thing I've been reluctant to do unless absolutely necessary. The bottle is strong, durable and will not degrade giving me confidence of use for many years to come with its replaceable filter system. Unbelievably simple in operation it allows me to get on with my journey with minimal fuss!
– Luke Parry
Perfect for the office…
I was at first skeptical about the Water-to-Go bottle as I already was in possession of a competitor's product and felt that was adequate. However, since switching to the Water-to-Go bottle there has been no looking back. Not only is the filtration system more advanced offering for better hygiene and taste when using the bottle I found the design, shape, and build of the product very strong. Perfect for office use as our tap water in the building runs cloudy. The durable bottle also means it is perfect for when I go to the gym during my lunch break. My office is now looking into personalizing the bottle and ordering some for the entire office.
– Declan Selbo
Backpacking India…
Thanks to Water-to-Go in helping me survive backpacking around India. As soon as I read about this product, I knew I wanted/needed one. I used it everywhere I went (although I didn't make it to the Ganges to do the ultimate drinking test!) I stayed healthy through my whole trip, filling up from any water source I had, whether that be public toilet taps, fountains, streams and even left it out during the monsoon rain. Even now being back on UK soil I don't go anywhere without it, before I would buy a bottle of mineral water per day, and if I didn't drink it all then it wouldn't taste fresh the next day (especially in room temp, which is the way I like my water). But now the water from my Water-to-Go bottle tastes fresh all of the time and its nothing but good clean H20! (The photo is of me on a long bus journey en route to Jaipur after filling up from a public toilet; sounds gross, but it tasted lovely). I cannot recommend it highly enough, for anyone, anywhere, anytime.
– Andréa Christofides
Better than Vodka…
Purchased on a whim the week I left for a long-awaited trip to Kyrgyzstan, Water-to-Go's product turned out to be a very good buy. Much as I love that part of the world, Central Asia isn't exactly renowned for the quality of its drinking water; and plumbing is far from universal. Vodka is available pretty much everywhere, but bottled water can be hard to find in many areas. Safe, sober hydration can sometimes be a problem. Having experienced the joys of giardia while travelling in Tajikistan (great for weight loss, otherwise quite unpleasant), I decided it might be a good idea to buy a water filter. Water-to-Go's bottle seemed to do the job it was designed for, and to do it well. Wherever there was tap water available, I drank it. Whenever I was thirsty and in the vicinity of a stream or lake, I used water from those natural sources and drank it through Water-to-Go's filter. There was no unpleasant, plasticky aftertaste which I've found can sometimes occur from drinking out of a bottle, neither did I pick up any nasty water-borne viruses. The bottle's sleeve made it easy to grip (I've since carried it while running without it ever slipping out of my hand), and it's solid enough that having it fall from an outer backpack pocket was never a problem. Easy to clean, easy to hold, and easy to drink from. If wanting to avoid a nasty surprise when drinking water abroad, or to feel more secure when taking water from natural sources, I'd definitely recommend getting hold of a Water-to-Go product. It ticks all the boxes for those needing a reliable water bottle for their travels
– Ben Scott
Who needs to buy bottled mineral water…
Water-to-Go is a fantastic product for people from all backgrounds whether you are a sports enthusiast, athlete, office worker or keen walker! Great tasting filtered water every time saves me a fortune on bottled water. Not only do I save Money with my Water-to-Go bottle but I also save space as I can easily pop it into my bag empty and fill it up anywhere! If you love to have fresh great tasting water on the go then you need Water-to-Go!
– Charlotte Jones
Peace of mind…
Having lived in Ghana, I understand and value the importance of clean drinking water. Water-to-Go and its filter water bottle system provides an essential, handy and effective way to consume water without worrying about the quality. I have had their water bottle for nearly 3 months now and I cannot recall a day that I have not used it, be it at the gym, football or even in the office. I have peace of mind in drinking any water from any source as long as I have my Water-to-Go bottle.
– Norbert Asenso
Lightweight & Functional…
My Water-to-Go bottle is easily one of the best things i've bought. It's lightweight, comfy to hold and can safely filter an awful lot of water! It's tempting to go with something bigger, heavier, flashier and seemingly more high-tech, but it is lighter and more functional than most filters and, unlike something like a Steripen, I don't have do drink dead bacteria! Mine is coming with me when I go off walking and I wouldn't be without it in trips to Africa, Asia and South America. I can't recommend it highly enough!
– James Douglas
Unsupported coast-to-coast trek Costa Rica…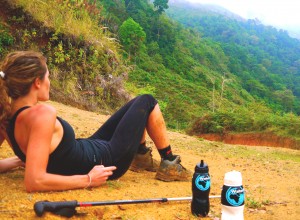 We have just returned from a gruelling 10 day unsupported trek from the West to the East Coast of Costa Rica. We were using Water-to-Go bottles and thought they were brilliant. It was great being able to pull water from a stream and drink it straight away rather than have to wait 1/2 an hour for a purification tablet to take effect. The water also tasted like it should and didn't have the chlorinated taste that often comes with purification tablets. I would highly recommend the Water-to-Go bottles to anyone going on expedition, or even travelling, in areas where the drinking water might cause illness, the bottles are a great easy to use solution that really work.
– Hayley Cecil-Wright
Four Awesome Reasons…
Hi Guys! I have decided to root for Water-to-Go for several awesome reasons… Awesome Reason 1. When I went Amsterdam I was Shocked how much they charge for water, and surprisingly even though there is a Canal or small river in every direction.. Tap water is rarer Than a mint condition, Shiny Naruto -Konoha Headband being found discarded on the floor of an anime convention. This made me remark to one shop owner to give me a Glass and I shall go out a scoop up some water from the Canal adjacent, he remarked that it is not advisable and I would most likely get ill. Awesome Reason 2. The bottle looks cool. Awesome Reason 3. I look cool, holding the bottle that looks cool and that makes me super cool. Awesome reason 4 it is cheap, easy to maintain, clean and carry around. It is also Impact durable as I have tested by accident… whoops!
– Gary Lawrence – Freerunner
Tap water gives me Eczema…
I seem to experience eczema on my hand whenever I drink tap water, and so for the last, I don't know how many years, I have had to resort to buying bottled water (if drinking it pure). I thought I would try Water-to-Go bottle as it offers a very convenient alternative to bottled water when I am out and about, as in theory I can refill anywhere, instead of having to constantly buy bottled water – which can work out quite expensive. I have been using the bottle for the last couple of weeks when I go to evening rehearsals with my local Am-Dram group and have not experienced any of the dreaded eczema appear on my hand which would usually appear when filling a bottle from the tap – and what's better when I finish the bottle I can refill it! Which is a luxury for me. For me it works! Thank you.
– Katie Kitson